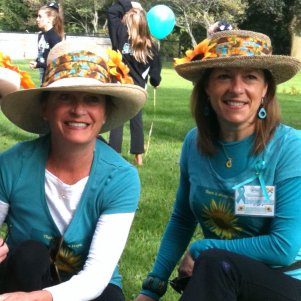 Jo & her sister Lisa at the Ovarian Cancer Canada Walk of Hope - September 11, 2011.
Joanne M. Meyer
December 6, 1953 - May 2, 2013
SunflowerSisters.ca was the inspiration of an Ovarian Cancer patient who saw the need to provide practical information and inspiration to help women LIVE with Ovarian Cancer.
Throughout her 5 and a half year journey, she conducted extensive research, sought the advice of medical experts and interviewed other OvCa survivors, while LIVING through multiple recurrences.
With the help of her own real sisters, this wealth of information has been documented and shared in layperson's terms, within this website and throughout her blog: Sunflower Sisters Ovarian Cancer Blog.
Sadly, Jo earned her wings on May 2, 2013. She passed away peacefully, surrounded in the love of her family. She leaves behind this legacy for you, her "Sunflower Sisters" and for your families and friends. May you find useful information, inspiration and hope within these pages, to help you to continue to LIVE full lives along your journeys.